Testimonials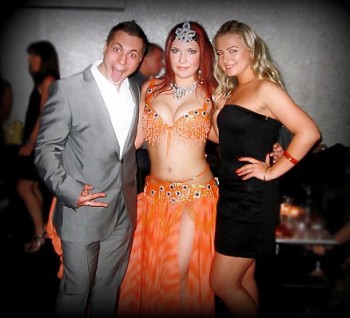 I COMPLETELY loved her, she kept a smile on my face. All my guest loved her and thought she had outstanding profermance. i will continue recommending her, i couldn't imagine, she went beyond my expectations, she had my guest screaming, and dancing, we have a complete amazing time, and i thank her so much for coming my party, and she had blown me away. i can't imagine how much i loved her. Love, Marina Saad The Staten Island Sweet 16 !
– Amal S, Staten Island, NY
Anastasia was AWESOME!!! We booked her last minute for a 40th birthday party. She was on time and had beautiful props and costume. Her show was more than I could have aked for. I had no idea a body could move like that!!!! I would definatly reccommend!
I wish I was able to give her 10 stars! Anastasia was an incredibly talented and engaging performer. She had the entire party on their feet and shaking their hips. Book her immediately as you will not find someone more talented, accommodating and amazing. Thank you!!
– Trudy B, NEW YORK CITY
"Anastasia was very professional right from the beginning. She stayed in contact from booking to after the event. Once Anastasia entered the room and began her performance, I could see all my guests surprised. I received a lot of good comments about the event and most had to do with Anastasia!
Wonderful dancer! I booked Anastasia for my best friend's wedding and she put on an amazing show and surprised everyone. She wore a killer outfit and made a grand entrance. The guests loved her performance and we all had a great time watching and dancing ourselves! She got people to dance with her, showed some moves, and it was so much fun! She used different kind of accessories such as the candles, wings, and sword. The guests were astonished especially with the candles she placed on her head. I would definitely recommend her for any occasion, she is beautiful and professional.
"I'm so glad I picked Anastasia, my guests are keep talking about her!!!! I've never seen anything like it before. I hire dancers for my party every year, she was the best so far! Will hire her again! Recommend to all!
– Charlie A, Edgewater, NJ
"I`m impressed! Anastasia was terrific! Not only she was prompt, polite and accommodating, her dance was spectacular! The best surprise for my guests!"
She was amazing, beautiful and very talented! She jumped out of the cake and made a fantastic show, birthday boy was speechless, so were the quests. She was a real pleasure to deal with, very accommodating. The show was jaw-dropping. She danced with candles, fans and sword, everybody had a pleasure to dance with her! The children loved her, my daughter cried when she left) I recommend her without hesitation! Thank You Anastasia!
– Katarin F, Brooklyn, NY
Anastasia was terrific!! She performed for my wife's 40th surprise birthday party. She was punctual, professional and very entertaining. My guests loved her. She is a beautiful woman who certainly knows how to work a crowd. I highly recommend her!!! A.M.
If you want to make your event mesmerizing and dynamic – HIRE ANASTASIA! She is like FIRE! Thank You so much for making it special!
– Sam K, Staten Island, NY
100 STARS!! She was amazing! She looks even more gorgeous in person! My guests loved her, she was so playful and charismatic! She made eye contact, smiled and blinked, very entertainy and fun! The costume was stunning, she was a real mermaid. She made my party! Anastasia was exactly what I was looking for for a birthday surprise! I will hire her again soon.
"I want to thank you once again! My friends were like "WOW!". I`ve seen so many belly dancers before, but you definately the best of all! I really enjoyed the show, the way you move is amazing and you have such a great energy, nobody wanted you to leave! I would love to work with you again) "
"Your performance was breathtaking and you were so intertainy! You will not believe, but this is what happened, my uncle took a picture of you at the wedding, he put it on the wall in his cellphone store and one random costumer bought it from him! You rock!"
Anastasia, thank you so much for coming and dancing for us! It was the best surprise for our Birthday boy. We made a great choise, it was an unbelievable night thanks to you. You brought such a highlight with your outstanding show.
All the best to you, Sasha, Max, Julie